Career
Grow with Japan Home
People are our most valuable assets.
We are in an exciting phase of business expansion.
If you are searching for opportunities as personal growth and career advancement be part of the team, together we build the company to greater heights.
Retail Supervisors
Retail Sales Assistants (Full Time / Part Timers)
Work location: at various Outlets/Shops Island-wide (Singapore)
Warehouse Assistant (Singaporean/SPR/Malaysian)
Work location: at JAPAN HOME Head Office
3 Changi South Street 2, #03-00, Xilin Districentre Building A, Singapore 486548
Staff Benefits :
New Join Bonus
Year End Bonus
Attendance Incentive
Referral Incentive
Attractive Salary & Sales Incentive
Staff Discount / Birthday Voucher
Training & Development Opportunities
Career Progression
89078457
Call or WhatsApp our Recruitment Hotline
(Office Hours: 8.30am to 6.00pm, Monday – Friday)
Housewives, Students and Retirees – All are welcome
Walk-In Interview available at Outlets/Shops Island-wide
Online Application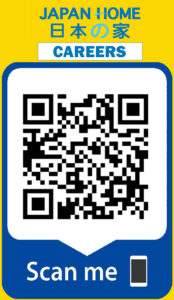 Individual training & skill upgrading with the following organisations are part of the career advancement with us.